Things look quiet here. But I've been doing a lot of blogging at dan.langille.org because I prefer WordPress now. Not all my posts there are FreeBSD related. I am in the midst of migrating The FreeBSD Diary over to WordPress (and you can read about that here). Once the migration is completed, I'll move the FreeBSD posts into the new FreeBSD Diary website.
More dual opteron images
9 July 2006
In original story about the dual opteron I was recently given by iXsystems, I included a link to photos of various sizes. I have since found this to be inadequete when trying to point out various features of the chassis. This new post article will correct that by including some thumbnail images and provide a faster way to find what I am looking for.
External views
This section contains external shots of the case.
Going inside the case
The really interesting stuff is inside.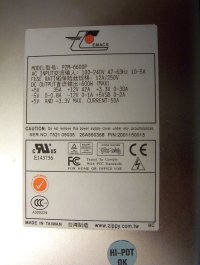 The back plane, where the drives attach
When you remove the cover shown in photos above, you can then see the back plane, the floppy drive, and the CDROM drive.